Kitchen Remodeling Services in Columbia, MD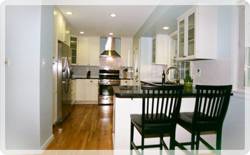 If you're looking to update your kitchen or need a little more in-depth work for a major renovation, you want the experienced team at American Kitchen Concepts, Inc., servicing Columbia, Baltimore, and the surrounding areas in Maryland. Our team consists of dedicated professionals who complete kitchen remodels and installs on a daily basis. Our service offering is extensive, ranging from new construction to remodeling, renovations, and more!
We Can Handle All Your Kitchen Remodeling Needs:
Cabinets
Countertops
Flooring
Appliances
Backsplash
Removal of closets/pantries
Lighting
Painting
Drywall
Electric
Carpentry
Plumbing
Removal of bulkheads
Removal of non-load bearing and load bearing walls to expand space
---
Where Do I Start?
The first step towards getting your dream kitchen is to contact us to schedule your first appointment at our showroom, where you select your new cabinets, counters, floor, etc.
After you've chosen the perfect looks and styles for your new kitchen, we'll schedule an in-home consultation where one of our kitchen remodeling experts will complete measurements and work out the details of the design and layout to create your ideal kitchen.
Our third meeting will be to review your plans in the showroom and make any changes to the plans, if needed. Now we will review the entire project and price breakdowns—you are ready to order!
Our commitment to fast, accurate service means you will have a new, complete kitchen in two weeks or less!
Discover How We Can Have Your New Kitchen Completed in Only Three Weeks:
We have only one team assigned to the project from start to finish.
We will work on-site for eight hours a day.
We will only be working on your kitchen – you have our full attention.
We only use the most reliable and dependable suppliers, and we don't start until we have the materials.
There will be constant communications between the office and the installation team.
The company owner will be on onsite regularly reviewing the process.
We keep you informed every step of the way.